Weekly Happenings at TBS
Announcements May 24, 2023
05/24/2023 05:00:31 PM
| | |
| --- | --- |
| Author | |
| Date Added | |
| Automatically create summary | |
| Summary | |

​​​​​​​

4 Sivan 5783/ May 24, 2023
Rabbi's Reflections ~ גיור‬‎

When a person decides to join the Jewish faith and become a giyur (a convert), it is cause for great celebration. The Jewish community rejoices as we welcome this person fully into the kahal. And, once a person converts, we never make mention again of her conversion. She is as fully Jewish as those born to a Jewish mother.

Please join us on Friday evening as our congregation welcomes Andrea Sexton to our community. Her Bet Din was this morning, preceded by a mikveh ceremony in a local pond. This was the culmination of years of study and participation in our Jewish community.

Our sages say that a convert is someone who has always had a Jewish soul. 

How fitting that we will study The Book of Ruth during Torah study this Shabbat. Ruth is Judaism's first giyur.

We will observe Yizkor at 11:30 this Saturday with a brief service. Come light a candle and remember those upon whose shoulders we stand.

L'shalom,
~ Rabbi Susan
   rabbi@brithshalom-az.org
TBS Calendar ~ לוּחַ שָׁנָה
Check out our website to view our calendar and discover the wonderful events coming up!
                 View the TBS Calendar
This Week's Calendar
Thursday, May 25~ 6:00pm Shavuot Service and Study and Ice Cream!
Friday, May 26  ~ 6:00pm Shabbat Services
Saturday, May 27 ~ 10:00am Book of Ruth Study, 11:30 Yizkor
Tuesday, May 30 ~ 11:00-1:00 Mahjong (Learn and play!); 1:00pm ~ TBS Choir, 2:00pm Yarn Yentas; 2:00pm Israeli Dancing (new day)
Wednesday, May 31 ~ 11:15 Hebrew Drop-In, 12:00pm Lunch Bunch, 1:30 Special Board Meeting
Thursday, June 1 ~ 11:00 Broken Tablets Study Group; 12:30 Yoga/Meditation; 1:30 Learn Torah Trope (Chanting)

TBS Board Meeting ~ ישיבת דירקטוריון
The next regular Board Meeting is Wednesday, June 14 at 2pm at TBS. Board meetings are open to all members in good standing. If you'd like to address the board or speak at the board meeting, please contact President, Trudy Steinhauer at trudysteinhauer@gmail.com no later than Monday, June 12.    

Save The Date! Our annual congregational meeting will take place on Sunday, June 25 at 10am at Temple B'rith Shalom. 
Adult Education ~ חינוך למבוגרים
Broken Tablets: ed by Rachel Mikvah is a compilation of essays written by prominent Jewish thinkers about, you guessed it, the Ten Commandments. Purchase the book in advance of the first class. Group will meet weekly on  THURSDAYS from 11:00-12:00 starting June 1.
Torah Trope (Chanting Torah)
1:30 pm on Thursdays: starting June 1 (6-8 week course). Purchase The Art of Torah Cantillation by Marshall Portnoy.
Mahjong Lessons Continue! Tuesdays from 11:00-1:00 in our Social Hall. RSVP to Shari Brooks at Shari@jbrookswa.com for table and mahjong set planning. Bring your lunch or a nosh if you like.
Beginning Music Theory Class!
We'll meet Tuesdays from 12:15-12:45pm weekly starting Tuesday, May 30. Contact Jessica in the office if you're interested! 
Lunch Bunch Tanach Study with Carl Shulak at TBS 
Every Wednesday from 12-1:30pm
Feel free to bring your own lunch. All are welcome to attend!
Wednesdays at 11:15 ~ Hebrew Drop-In Class ~ Every other week ~ Come when you can to learn to read, practice reading, learn prayer vocabulary. Work at your own pace. Upcoming: May 31; June 14, 28
Women's Book Group Upcoming Books and Dates
~ Wednesdays at 11:00am ~
July 12 - The Ritual Bath by Faye Kellerman 
Sept. 13 - The World to Come by Dara Horn 
Nov. 8 - And After the Fire by Lauren Belfer 
Women in the Hebrew Bible – and more!
Sunday, June 11 at 1pm 
Presented by Rabbi Nina Perlmutter 
Far more women appear in Tanakh than most of us ever knew. Happily, in contemporary times we're acknowledging---and learning about and from them.
Bring what you know, and open to new insights about female prophetesses, mothers, military leaders,
prostitutes, mystics, a judge, Talmud sage & more!
Congregational Support ~ עֶזרָה
Mitzvah Circle ~
Contact Rabbi Susan or Jessica to participate or to request assistance. Contact Rabbi Susan to join the Caring Cards group.
Social Action ~ תיקון עולם
Join Team TBS in the Walk to end Alzheimer's
The walk to end alzheimer's in the Quad-Cities takes place September 30, 2023. Since 2019, Temple B'rith Shalom congregants, families, and friends have supported the "walk" as team TBS. Whether you choose to walk or just support this worthwhile event with your donation, everyone's invited to participate.
To Donate to Team TBS: 
Click on this link: http://act.alz.org/goto/TeamTBS 
Options: Donate to the team, or join the team. By joining the team you are officially registered. The does not require you to walk.
There are incentives to those who register (example- $100 donors will receive a commemorative Alzheimer's Walk T-shirt). 

Questions? Contact Lee Nackman,Team Captain at 928-717-0813 or roleenack@yahoo.com. Lee has a form available if you wish to contribute by check. 
Yarn Yentas knit and crochet scarves and hats for the Prescott homeless. Join us on Tuesdays at 2:00pm. We have yarn and needles and will teach you!. 
Drop off your compost material (no plastic bags) in a bucket by the front door at TBS by 11AM on Saturdays and it will be taken to the Prescott Farmer's Market.
There is no compost collection June 9 and 10. Collection will restart the following week.
Religious School ~ בית ספר דתי
Summer Shabbat Programs for Children! 9:30-11:00 June 10, July 15, Aug. 19 Ages 2-12

Registration for 2023-2024 school year now happening! Early bird fees!
The Men of Temple B'rith Shalom
Join the Men of TBS every Tuesday at 9am at the Wildflower restaurant here in Prescott.
Women of TBS 
Wine & Design
Thursday, June 15, 2023 at 5pm
$50 per person
Bring a bottle of wine, or a beverage of your choice, & some snacks as we learn how to create a flower arrangement taught by the best in the business, Allen's Flowers.

Allen's Flowers will provide the flowers, vases & all materials needed to create our respective masterpieces. At the end of the evening we'll take home our creations.
 
Space is limited to 13 people. RSVP to Jessica in the office at office@brithshalom-az.org.
Member News ~ חדשות חברים

Kaddish ~ קדיש
We are saying Kaddish for the following people at Shabbat this Friday, May 26. We are observing the Yahrzeits of loved ones who have passed from May 27- June 2. We also remember those who have left us in the last eleven months. These names have been taken from the member portion of our website. If you do not see your loved one's name and would like their name to be added to be said at services, please contact Jessica in the office.

Amy Schutz, cousin of Michael Sperling 
Kurt Weber, uncle of Laurie Reiner
Anita Greenberg, sister of Si Osgrove
Rachel Golden, cousin of Steve and Sue Weiss
Milton Maurer, father of Leslie Adler
Rabbi Harold Kushner
Abraham Buryachenko, Father of Laura Men
Elijah Escobedo, nephew of Karin Luedke
Bernard "Red" Hollander, grandfather of Leslie Hollander
Thelma Maurer, mother of Leslie Adler
Eve Shulak, sister of Carl Shulak
David Stockton, son-in-law of Arlene Brownie
Dakota Hopp, relative of Arlene Brownie
Juliet Jacobson, sister of Janet Rifkin 
Beth Susan Laxineta-Platt, aunt of Samantha Opperman
Harriet Perlmutter, cousin of Steve and Sue Weiss
Edward Miller, uncle of Arlene Brownie
Stanley Blacker, close friend of Trudy Steinhauer
Leo Strom, brother of Karin Luedke
Nicole Perrot, Sister-in-law of Mireille Perrot
Marilyn Korpiel, wife of Joseph, mother of Stephanie Korpiel and Rachel Ellington. 
Jack Tarash, brother-in-law of Jay Bycer
Reva Kaufman, sister-in-law of Trudy Steinhauer
Paula Schanerman, mother of Brian Schanerman
Arthur Ackerman, brother of Richie Ackerman
Michael Kaufman, brother of Trudy Steinhauer
Peter Lawrence Goldman, father of Wendy Porter, grandfather of Henrietta Porter 
Purchasing a Yahrzeit plaque is a beautiful way to honor and remember our loved one's who have passed. To purchase a plaque, please fill out this form and return it to the temple office. We kindly ask for $360 per Yahrzeit plaque. 
Yahrzeit Plaque Order Form
Healing Thoughts ~ מי שבעירך
Sally Contour, Brett Friend, Bruce Hershman, Judith McIntyre, Gary Rosenberg, Gina Hughes, Tina Rosenberg, Asher Davis, Rosario Maya, Fred Shulak, Brian Shrager, Jackie Herst, Mike Wolf, Estherly Allen, Karen Bycer, Scott Muirhead, Rabbi Nina Perlmutter, and Stephanie Byrd.

If you would like to add or take off your name or your family member's name from the healing list, please call or email the office at 928-708-0018 or office@brithshalom-az.org.
Give Back to TBS!
We are so grateful for your kindness and generous giving to Temple B'rith Shalom. Your contributions help Temple B'rith shalom to thrive and ensure a home for Jews in the Quad City area.
If you would like to make a donation now, click here.   
Did you know you could can give back to TBS at no additional cost to you simply by shopping at Frys? For more information, click here. 
Interested in Advertising in our Member Directory? 

Place a business card size advertisement in our membership directory for just $25! Email or call Jessica in the office for further information! 
Are you interested in advertising on our website? Please contact Jessica in the office for more details.  
Temple B'rith Shalom
2077 Brohner Way
Prescott, AZ 86301
Tue, May 30 2023
10 Sivan 5783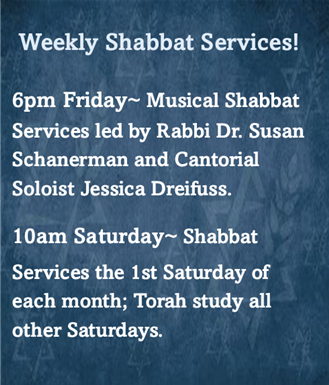 Temple B'rith Shalom wants to hear from you
Like us on Facebook!
https://www.facebook.com/brithshalomaz
Follow us on Instagram! https://www.instagram.com/schanermansusan/
Tue, May 30 2023 10 Sivan 5783