Interested in becoming part of the TBS community?
The synagogue is where we can encounter God, engage with God and hear God's voice without the intrusion of the world's noise around us. Here we say prayers for healing and find personal healing of the soul, surrounded by a community that supports and nurtures us.
Temple B'rith Shalom is here for you - but it needs your support to exist. We hope you will consider becoming a member of our community.
Learn more about being a member
If you're interested in joining Temple B'rith Shalom, please call the office (928) 708-0018. You can also complete the Prospective Membership Application Form and bring it with you to the Temple office at 2077 Brohner Way Prescott, AZ 86301. Please call to make an appointment with Jessica in the office.
Tue, May 30 2023
10 Sivan 5783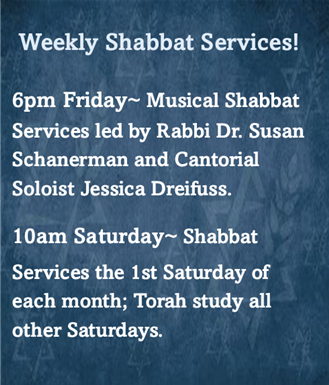 Temple B'rith Shalom wants to hear from you
Like us on Facebook!
https://www.facebook.com/brithshalomaz
Follow us on Instagram! https://www.instagram.com/schanermansusan/
Tue, May 30 2023 10 Sivan 5783