Weekly Happenings at TBS
Announcements March 1, 2023
03/01/2023 05:00:38 PM
| | |
| --- | --- |
| Author | |
| Date Added | |
| Automatically create summary | |
| Summary | |

​​​​​​​
8 Adar 5783/ March 1, 2023
Rabbi's Reflections ~ מחשבות ~ PURIM!
Purim is a celebration of survival, of disguise, of resourcefulness in the face of persecution. We are commanded to hear the story, to costume ourselves, and to eat hamantaschen in the shape of evil Haman's hat.

Our TBS Purim Spiel is Nerd Purim this year. That means mismatched clothes, silly shirts and hats and whatever you have in your closet! Children are encouraged to wear costumes of any sort. Graggers and general mayhem are the order of the day. 

Our Purim cast: Al Steinberg, Bill Dahlin, Deb Plotkin, Andrea Sexton, and Carl Shulak along with girl singers (The Vashtettes) and our Turkish dancers invite you to join us for laughter and happy celebration at TBS this Sunday at 1:00pm. We will provide the graggers; you provide the merriment!

!!!!חג פורים
~ Rabbi Susan
   rabbi@brithshalom-az.org


Next Wednesday, join us for an adult reading of the Book of Esther at the beginning of Lunch Bunch. Was it really a beauty contest...?
TBS Calendar ~ לוּחַ שָׁנָה
Check out our website to view our calendar and discover the wonderful events coming up!
                 View the TBS Calendar
This Week's Calendar
Thursday, March 2 12:30pm ~ Yoga/Kabbalah
Friday, March 3 6:00pm ~ Shabbat Service
Saturday, March 4 10:00am ~ Shabbat Service; 12:30pm Interfaith Choir Rehearsal at Trinity Presbyterian Church
Sunday, March 5 11:30am ~ Sunday School; 1:00pm PURIM SPIEL
Tuesday, March 7 2:00pm ~ Yarn Yentas
Wednesday, March 8 ~ 11:00am Women's Book Group; 12:00pm Lunch Bunch; 1:30pm Mussar 

Save the Dates:
Saturday, March 25 5:00pm ~ The GALA
​​​​​​​Thursday, April 6 5:00pm ~ 2nd Night Congregational (and visitors) Seder

TBS Board Meeting ~ ישיבת דירקטוריון
The next Board Meeting is Wednesday, March 15 at 2pm at TBS. Board meetings are open to all members in good standing. If you'd like to address the board or speak at the board meeting, please contact President, Trudy Steinhauer at trudysteinhauer@gmail.com no later than Monday, March 13.    
Adult Education ~ חינוך למבוגרים
Upcoming Special Adult Education Events
Tues., Mar. 8 11:00am ~ Women's Fiction Book Group ~ Last Summer at the Golden Hotel by Elyssa Friedland
Sun., Mar. 12 8:00pm ~ Adult Ed with Tom Brodersen
Sun., Mar 19 1:00pm ~ Film Viewing
Thurs., Mar. 23 12:45pm ~ Book Discussion with Rabbi Susan ~ Finding God by Rifat Sonsino

TBS Adult Ed Monthly Sundays at 1:00pm with Rabbi Nina Perlmutter and Tom Brodersen!
See the TBS Website's Adult Education Page for the complete schedule (and see how the website is now updated often and full of need-to-know information.) https://www.brithshalom-az.org/adult-education.html 
Lunch Bunch Tanach Study with Carl Shulak at TBS
Every Wednesday from 12-1:30pm
Feel free to bring your own lunch but please no treif (pork, shrimp, etc). All are welcome to attend!
Congregational Support ~ עֶזרָה
Mitzvah Circle ~ Chair Marsha Freedenberg
Contact Marsha Freedenberg to participate or to request assistance. 928-771-9155. Contact Rabbi Susan to join the Caring Cards group.
Social Action ~ תיקון עולם
Yarn Yentas knit and crochet scarves and hats for the Prescott homeless. Join us on Tuesdays at 2:00pm. We have yarn and needles and will teach you!. 
TBS Compassionate Cooks
TBS sponsors a meal on the last Sunday of the month for the women and children's shelter in Prescott. Volunteers cook or purchase their donation.  Volunteers deliver their dishes to the shelter at 5:15pm on the appointed day. Email Annie at anniebernkrant@hotmail.com or call her at (928) 273-5202 before March 12. 
Drop off your compost material (no plastic bags) in a bucket by the front door at TBS by 11AM on Saturdays and it will be taken to the Prescott Farmer's Market.
Religious School ~ בית ספר דתי
Women of TBS Challah Baking Class with Allee Steinberg and Deb Plotkin
Sunday, March 12 at 11:30am
Temple Kitchen
Bring a small baking tray to transport your ready-to-bake challah after the class. And think about what kind of shape your challah will be!
RSVP to Allee at allee2295@aol.com or Deb at debjplotkin@gmail.com
9-5 theatre tickets are still available. Contact Joanne Brody for details! richjohoney@gmail.com
You're Invited to Temple B'rith Shalom's Gala on March 25, 2023 at 5pm at The Club at Prescott Lakes 
Enjoy an elegant dinner and come hear Rob Ratner and his esteemed Jazz band featuring Jessica Dreifuss on vocals. We'll also have a live and silent auction including amazing excursions and fine jewelry to bid on. This will certainly be a night to remember! Get your tickets now at $115 per person. All proceeds go to support Temple B'rith Shalom.
​​​​​​​
                     RSVP For The Gala 2023

March 17th will be the last day to accept reservations for the Gala, so please RSVP soon. Invite your family and both your Jewish and Non-Jewish friends to attend our major fundraiser for the year!

Many have asked if they can designate who they would like at their table of 8. If one person registers and pays for all the registrants, we will put those people together at a table. If each person registers separately, send Gloria an email at misgloria@gmail.com who you wish at your table and she will make these accomodations.  

We have procured many wonderful auction items and the entertainment will be outstanding. For a list of auction items acquired so far, visit the Temple Website: Gala 2023 Auction Information 
The Men of Temple B'rith Shalom
Join the Men of TBS every Tuesday at 9am at the Wildflower restuarant here in Prescott.
The Women of TBS February/March
Fiction Book Group
Challah Baking
Diamond Art
Jarz of Clay Pottery Painting
and more...
Rabbi Susan is on the Steering Committee of the new Quad City Interfaith Choir. We rehearse on the 1st Saturday of each month at 12:30 at Trinity Presbyterian Church. Please contact Rabbi Susan for info.
Member News ~ חדשות חברים
Temple B'rith Shalom wishes a very happy birthday in March to:
5 Gayle Pokorny                     17 Barbara Sealey
11 Miguel Ramirez                 21 Jeffrey Adler
15 Tom Reiner                       25 John Jones
16 Gabriella Kaplan               31 Amelia Ehrlich


Happy Anniversary to: 
5 Lee and Roberta Nackman 
19 Susan and Jerry Sappington 

Kaddish ~ קדיש
We are saying Kaddish for the following people at Shabbat this Friday, March 3. We are observing the Yahrzeits of loved ones who have passed from March 4-10. We also remember those who have left us in the last eleven months. These names have been taken from the member portion of our website. If you do not see your loved one's name and would like their name to be added to be said at services, please contact Jessica in the office. 

Thelma Maurer, mother of Leslie Adler. Condolences to the Adler Family.

Martha Raskin, mother-in-law of Arlene Raskin 
Madge Hemingway, grandmother of Judith McIntyre
Sandra Wolf, sister of Mike Wolf
Ken Shulak, brother of Carl Shulak
Gloria Adler, mother of Rich Adler, mother-in-law of Leslie Adler
Donald Frankel, father of Linda Frankel
Linda Hochman, partner of Bill Cadwallender 
Leon Harris, father of Dr. Marylyn Clark
John Funfare, grandfather of Trudy Steinhauer
Eve Shulak, sister of Carl Shulak
David Stockton, son-in-law of Arlene Brownie
Dakota Hopp, relative of Arlene Brownie
Juliet Jacobson, sister of Janet Rifkin 
Beth Susan Laxineta-Platt, aunt of Samantha Opperman
Harriet Perlmutter, cousin of Steve and Sue Weiss
Edward Miller, uncle of Arlene Brownie
Stanley Blacker, close friend of Trudy Steinhauer
Leo Strom, brother of Karin Luedke
Nicole Perrot, Sister-in-law of Mireille Perrot
Marilyn Korpiel, wife of Joseph, mother of Stephanie Korpiel and Rachel Ellington. 
Jack Tarash, brother-in-law of Jay Bycer
Reva Kaufman, sister-in-law of Trudy Steinhauer
Paula Schanerman, mother of Brian Schanerman
Arthur Ackerman, brother of Richie Ackerman
Michael Kaufman, brother of Trudy Steinhauer
Peter Lawrence Goldman, father of Wendy Porter, grandfather of Henrietta Porter 
Mark Basch, son of Esther Basch, brother of Rachel Turet
Purchasing a Yahrzeit plaque is a beautiful way to honor and remember our loved one's who have passed. To purchase a plaque, please fill out this form and return it to the temple office. We kindly ask for $360 per Yahrzeit plaque. 
Yahrzeit Plaque Order Form
Healing Thoughts ~ מי שבעירך
 Brian Shrager, Jackie Herst, Sue Weiss, Laury Shayne, Mike Wolf, Elijah Escobedo, Estherly Allen, Richard Brody, Karen Bycer, Scott Muirhead, Rabbi Nina Perlmutter, Josiah Ramirez, Josiah Ramirez Jr., Sandra Lynch, Roslyn Brownie, and Stephanie Byrd.

If you would like to add or take off your name or your family member's name from the healing list, please call or email the office at 928-708-0018 or office@brithshalom-az.org.
We would like to extend our heartfelt gratitude and appreciation for the donations we received in the month of February. We are so grateful and appreciative of your support!
GENERAL FUND:
Roza Rosenberg- in memory of Betty Rosenberg and Eli Josel Szajman
Jay and Karen Bycer- In appreciation of Rabbi Susan, staff, and board of directors
Richard Jacobs and Blanche Berkowitz-Jacobs- in honor of Bill's Bar Mitzvah
Janet Rifkin- in memory of sister-in-law Toby Pertcheck, sister-in-law Pearl Pertcheck, brother-in-law Ralph Pertcheck, and sister Juliet Jacobson.
Karin and Rod Luedke-  in honor of Bill Cadwallender's Bar Mitzvah
Irv and Arlene Potter- In honor of Bill Cadwallender's Bar Mitzvah
Laurie and Tom Reiner- in honor of Bill Cadwallender's Bar Mitzvah
David and Esther Littmann- in honor of Bill Cadwallender's Bar Mitzvah
Karin and Rod Luedke- in memory of Daniel Luedke and Linda Hochman.
Lee and Roberta Nackman- in honor of Bill Cadwallender's Bar Mitzvah
Steve and Sue Weiss- in honor of Bill Cadwallender's bar mitzvah
Andrea Sexton- in honor of Bill Cadwallender's Bar Mitzvah

RABBI DISCRETIONARY FUND:
Lee and Roberta Nackman- In recognition of Rabbi Susan's warm spiritual leadership
Jeff and Shari Brooks- in appreciation of Rabbi Susan, for the speedy recovery of Jessica Dreifuss, in appreciation of Peter Bernkrant, and in honor of Bill Cadwallender's Bar Mitzvah
Trudy Steinhauer- in honor of Bill Cadwallender's Bar Mitzvah
Trudy Steinhauer- wishing a speedy recovery to Sue Weiss
Leslie and Rich Adler- in Appreciation of Rabbi Susan

RELIGIOUS SCHOOL:
Rabbi Nina Perlmutter and Tom Brodersen- in honor of and in gratitude of Arlene Brownie
Lee and Roberta Nackman- in recognition of Arlene Brownie's teaching, love, and commitment to the children of the temple community.
Suzi Abramson-Johnson- in honor of Arlene Brownie

ONEG FUND:
Robert Eaton- in memory of his father's Yahrzeit
Suzi Abramson-Johnson- in honor of Bill Cadwallender's Bar Mitzvah
Steve and Sue Weiss 

BUILDING FUND:
Lee and Roberta Nackman- in acknowledgement of the yahrzeit of Robert and Frances Zive, parents of Roberta Nackman.
Michael Sperling- in memory of Bonnie Sperling
A special thank you to those who donated or sponsored an Oneg in February!
Richie and Claudia Ackerman
Bill Cadwallender 
Give Back to TBS!
We are so grateful for your kindness and generous giving to Temple B'rith Shalom. Your contributions help Temple B'rith shalom to thrive and ensure a home for Jews in the Quad City area.
If you would like to make a donation now, click here.   
Did you know you could can give back to TBS at no additional cost to you simply by shopping at Frys or Amazon Smile? For more information, click here. 
Are you interested in advertising on our website? Please contact Jessica in the office for more details.  
Temple B'rith Shalom
2077 Brohner Way
Prescott, AZ 86301
Tue, May 30 2023
10 Sivan 5783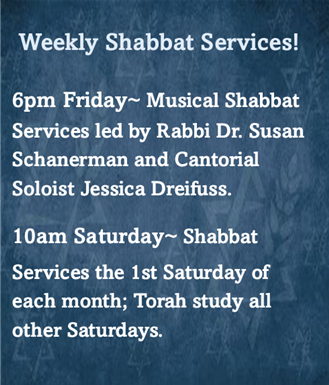 Temple B'rith Shalom wants to hear from you
Like us on Facebook!
https://www.facebook.com/brithshalomaz
Follow us on Instagram! https://www.instagram.com/schanermansusan/
Tue, May 30 2023 10 Sivan 5783