Weekly Happenings at TBS
Announcements February 1, 2023
02/01/2023 05:01:12 PM
| | |
| --- | --- |
| Author | |
| Date Added | |
| Automatically create summary | |
| Summary | |

​​​​​​​
10 Sh'vat 5783/ February 1, 2023
Rabbi's Reflections ~ Tu B'Shevat (15th of Shevat) is Monday, Feb. 6
In ancient times, Tu B'Shevat helped Jewish farmers establish exactly when they should bring their fourth-year produce of fruit from recently planted trees to the Temple as first-fruit offerings

Early Zionists celebrated their tree-planting efforts to restore the ecology of ancient Israel and as a symbol of renewed growth and flowering of the Jewish people returning to their ancestral homeland.

Tu B'Shevat continues to be an opportunity for planting trees — in Israel and elsewhere, wherever Jews live. Many American and European Jews observe Tu Bishvat by contributing money to the Jewish National Fund, an organization devoted to reforesting Israel (the purchase of trees in JNF forests is also customary to commemorate a celebration such as a Bar or Bat Mitzvah).

For environmentalists, Tu B'Shevat is a Jewish connection to contemporary ecological issues through the teaching of Jewish sources celebrating nature. 

JNF Tree Planting forms are in the Temple lobby. Please join us for an easy walk on Peavine Trail this Saturday at 1:00pm. We'll meet in the Temple parking lot and carpool over. Weather should be beautiful!

L'shalom,
~ Rabbi Susan
   rabbi@brithshalom-az.org
This Week's Calendar
​​​​​​​Thursday 11:00am Yoga and Kabbalah; 2:00pm Israeli Dancing
Saturday BEFORE 11:00am ~ Compost drop off in the Sukkah
Saturday at 10:00 TORAH STUDY; 1:00pm Tu B'Shevat Hike
Sunday at 10:00 Sunday School; 1:00pm Film: The Mad Adventures of Rabbi Jacob
Tuesday at 2:00 Yarn Yentas 
Wednesday at 11:00 Hebrew; 12:00 Lunch BUNCH, 1:30 Mussar
Thursday at 12:45 Discovering Judaism Topic: Jewish holidays; 2:00 Israeli Dancing
Friday Feb. 10 Shabbat Service to honor Arlene Brownie on her 22 years of service to our religious school children. Camp Stein will be here to talk about camp this summer.
Sat., Feb. 11 Bar Mitzvah of Bill Cadwallender. The entire congregation is invited. Rabbi Nina Perlmutter will conduct the service.

Check out our website to view our calendar and discover the wonderful events coming up!
                 View the TBS Calendar
TBS Board Meeting
The next Board Meeting is Wednesday, February 15 at 2pm at TBS. Board meetings are open to all members in good standing. If you'd like to address the board or speak at the board meeting, please contact President, Trudy Steinhauer at trudysteinhauer@gmail.com no later than Monday, February 13.    
Upcoming Special Adult Education Events
Thurs., Feb. 2 11:00am ~ Yoga and Kabbalah

Sun., Feb. 5 1:00pm ~ Film Viewing
Sun., Feb. 19 1:00pm ~ Rabbi Nina and Tom Brodersen Adult Ed
Thurs., Feb 23 12:45pm ~ Prayers and Liturgy - Understanding what we pray
Sun., Feb. 26 1:00pm ~ Learn to play mahjong
Tues., Mar. 8 11:00am ~ Women's Fiction Book Group ~ Last Summer at the Golden Hotel by Elyssa Friedland
Sun., Mar. 12 8:00pm ~ Adult Ed with Tom Brodersen
Sun., Mar 19 1:00pm ~ Film Viewing
Thurs., Mar. 23 12:45pm ~ Book Discussion with Rabbi Susan ~ Finding God by Rifat Sonsino

TBS Adult Ed Monthly Sundays at 1:00pm with Rabbi Nina Perlmutter and Tom Brodersen!
See the TBS Website's Adult Education Page for the complete schedule (and see how the website is now updated often and full of need-to-know information.) https://www.brithshalom-az.org/adult-education.html 
Lunch Bunch Tanach Study with Carl Shulak at TBS
Every Wednesday from 12-1:30pm
Feel free to bring your own lunch but please no treif (pork, shrimp, etc). All are welcome to attend!
Mitzvah Circle ~ Chair Marsha Freedenberg
Contact Marsha Freedenberg to participate or to request assistance. 928-771-9155
Purchase trees in Israel through the Jewish National Fund. Wonderful way to celebrate a simcha, to honor or memorialize someone. Click here.
Yarn Yentas knit and crochet scarves and hats for the Prescott homeless. Join us on Tuesdays at 2:00pm. We have yarn and needles and will teach you!. 
TBS Compassionate Cooks
TBS sponsors a meal on the last Sunday of the month for the women and children's shelter in Prescott. Volunteers cook or purchase their donation.  Volunteers deliver their dishes to the shelter at 5:15pm on the appointed day.  Email Annie at anniebernkrant@hotmail.com or call her at (928) 273-5202 before Feb.
Social Action at TBS ~ Contact Gene Galazan to join our committee. ggalazan@msn.com. Drop off your compost material (no plastic bags) in a bucket in the sukkah at TBS by 11AM on Saturdays and it will be taken to the Prescott Farmer's Market.
Dayenu Circle Meeting/Social Action at TBS
Next Meeting on Zoom- Feb. 19 at 3pm
Join the Dayenu circle as we welcome discussion to help find solutions to combat environmental concerns due to climate change. For more information, please contact Gene at ggalazan@msn.com .
Mazel Tov to Arlene Brownie on her retirement after 22 years at the TBS religious school! Join us on Friday, Feb. 10 at 6:00pm for a Shabbat service to honor Arlene.
Join us at Red Lobster on Wed., Feb. 22 at 5:30pm for our next Fressers Dinner. RSVP to Diane Shrager at dianeshrager@gmail.com
9-5 theatre tickets are still available. Contact Joanne Brody for details! richjohoney@gmail.com
You're Invited to Temple B'rith Shalom's Gala on March 25, 2023 at 5pm at The Club at Prescott Lakes 
Enjoy an elegant dinner with your choice of pan-seared chicken with honey mustard glace, grilled New York strip steak with roasted shallot demi glace, or roasted vegetable ravioli with marinara sauce. Come hear Rob Ratner and his esteemed Jazz band featuring Jessica Dreifuss on vocals. We'll also have a live auction including amazing excursions and fine jewelry to bid on. This will certainly be a night to remember! Get your tickets now at $115 per person. Invite your family and both your Jewish and Non-Jewish friends to a fun evening event. Good friends, Good Dinner and Good Music!! Great Fun!! All proceeds go to support Temple B'rith Shalom.
​​​​​​​
                     RSVP For The Gala 2023

Some very nice auction items are being acquired! Thank you!! For a list of auction items acquired so far, visit the Temple Website: Gala 2023 Auction Information 

We're still looking to acquire more auction items. Please think about a business or friend you have a relationship with that could donate items for the auction, such as:
Ask your barber/hair dresser to donate a gift card
Ask a restaurant you frequent to donate meals
Ask a friend with a vacation home to donate it's use
​​​​​​​Acquiring auction items is an integral part of the Gala's success. It is all our responsibility to help ensure we have a successful Gala. For more information, see our
website
. 
If you have any questions, please contact Gloria Hershman at 928-778-0161 or misgloria@gmail.com
The Men of Temple B'rith Shalom
Join the Men of TBS every Tuesday at 9am at the  Wildflower restuarant here in Prescott.

The Women of TBS February/March
Fiction Book Group
Challah Baking
Diamond Art
Jarz of Clay Pottery Painting
and more...


Temple B'rith Shalom is thrilled to welcome and welcome back our newest members: 
Laury Shayne
Susan and Jerry Sappington



Temple B'rith Shalom wishes a very happy birthday in February to:
01 Roberta Nackman      17 Judith McIntyre
04 Richard Adler            19 Hayden Barnes
07 Carol Flinner             19 Michael Freedenberg
10 Toni Winkelman        19 Michael Charlap
10 Alicia Steinberg         19 Estherly Allen
11 Susan Kullman           22 Gloria Hershman
12 Joanne Brody             23 Susan Zane
13 Bard Schatzman         26 Jay Bycer
14 Annie Bernkrant         28 Veronica Ehrlich
16 Jeff Plotkin      
Happy Anniversary to: 
02 Richie and Claudia Ackerman
12 Don and Sandra Gurstein 
15 Samantha and Daryl Opperman
We are saying Kaddish for the following people at Shabbat this Friday, February 3. We are observing the Yahrzeits of loved ones who have passed from February 4-10. We also remember those who have left us in the last eleven months. These names have been taken from the member portion of our website. If you do not see your loved one's name and would like their name to be added to be said at services, please contact Jessica in the office. 

Wilbur Reed, father of Janice Reed
Frances Zive, mother of Roberta Nackman
Betty Rosenberg, mother-in-law of Roza Rosenberg
Ann Helen Leff, mother of Susan Sappington
Tamar Fox, mother of Steve Stern
Harriet Perlmutter, cousin of Steve and Sue Weiss
Edward Miller, uncle of Arlene Brownie
Stanley Blacker, close friend of Trudy Steinhauer
Leo Strom, brother of Karin Luedke
Nicole Perrot, Sister-in-law of Mireille Perrot
Marilyn Korpiel, wife of Joseph, mother of Stephanie Korpiel and Rachel Ellington. 
Jack Tarash, brother-in-law of Jay Bycer
Reva Kaufman, sister-in-law of Trudy Steinhauer
Paula Schanerman, mother of Brian Schanerman
Arthur Ackerman, brother of Richie Ackerman
Michael Kaufman, brother of Trudy Steinhauer
Peter Lawrence Goldman, father of Wendy Porter, grandfather of Henrietta Porter 
Mark Basch, son of Esther Basch, brother of Rachel Turet
Bonnie Sperling, wife of Michael Sperling
Linda Hochman, partner of Bill Cadwallender 
Purchasing a Yahrzeit plaque is a beautiful way to honor and remember our loved one's who have passed. To purchase a plaque, please fill out this form and return it to the temple office. We kindly ask for $360 per Yahrzeit plaque. 
Yahrzeit Plaque Order Form
Healing Thoughts for:
 Jessica Dreifuss, Mike Wolf, Elijah Escobedo, Estherly Allen, Richard Brody, Karen Bycer, Scott Muirhead, Rabbi Nina Perlmutter, Josiah Ramirez Jr., Sandra Lynch, Roslyn Brownie, and Stephanie Byrd.

If you would like to add or take off your name or your family member's name from the healing list, please call or email the office at 928-708-0018 or office@brithshalom-az.org.
We would like to extend our heartfelt gratitude and appreciation for the donations we received in the month of January. We are so grateful and appreciative of your support!
GENERAL FUND:
Esther Basch
Steve and Sue Weiss- in memory of Happy Perlmutter and in loving memory of our mother, Isabelle Weiss
Dianne Tennant-Rucker- in support of TBS's upcoming Gala
Steve and Sue Weiss- in honor of Bill Kram's 90th birthday
Bill and Wynndi Dahlin         
Leah Gilbert- in memory of Walter Gilbert, father-in-law of Leah Gilbert and wishing a speedy recovery to Jessica Dreifuss

RABBI DISCRETIONARY FUND:
Mike and Marsha Freedenberg- in memory of Marsha's Father, David Goldberg

BROHNER RELIGIOUS SCHOOL EDUCATION FUND:
Carol Flinner- in memory of Henry Knapp

ONEG FUND:
Steve and Sue Weiss
A special thank you to those who donated or sponsored an Oneg in January!
Bard Schatzman
Mireille Perrot
Mark Gray
Esther and David Littmann

Give Back to TBS!
We are so grateful for your kindness and generous giving to Temple B'rith Shalom. Your contributions help Temple B'rith shalom to thrive and ensure a home for Jews in the Quad City area.
If you would like to make a donation now, click here.   
Did you know you could can give back to TBS at no additional cost to you simply by shopping at Frys or Amazon Smile? For more information, click here. 
Are you interested in advertising on our website? Please contact Jessica in the office for more details.  
Temple B'rith Shalom
2077 Brohner Way
Prescott, AZ 86301
Tue, May 30 2023
10 Sivan 5783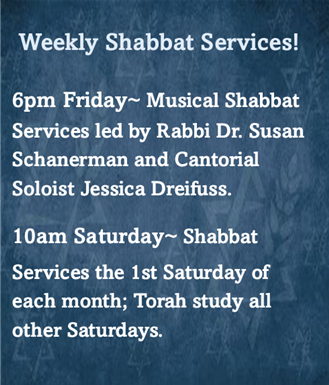 Temple B'rith Shalom wants to hear from you
Like us on Facebook!
https://www.facebook.com/brithshalomaz
Follow us on Instagram! https://www.instagram.com/schanermansusan/
Tue, May 30 2023 10 Sivan 5783