Weekly Happenings at TBS
Announcements January 11, 2023
01/11/2023 05:00:37 PM
| | |
| --- | --- |
| Author | |
| Date Added | |
| Automatically create summary | |
| Summary | |

​​​​​​​
18 Tevet 5783/ January 11, 2023
Rabbi's Reflections ~ Marching for Justice

Rabbi Abraham Joshua Heschel was devastated to find the Nazi policies he fled as a Jew in 1940 in play in the U.S. against Black people. Heschel rejected these notions not merely with his words, but with his protesting body for the rest of his life. After marching for voting rights with Martin Luther King, Amelia Boynton & John Lewis at Selma, Heschel said, "Our march was worship. I felt my legs were praying." Put on your marching shoes and join me this Monday at 10:00am at Prescott College. We will spread justice with each step.
L'shalom,
~ Rabbi Susan

2023 MLK Jr. Peace and Justice March and Celebration. Weather permitting, March starts at Prescott College at 10am. Walk to the Courthouse Plaza and back to Prescott United Methodist Church for an inspirational community program. Park at Prescott College or the Methodist Church for overflow. COLLECTING NEW SOCKS AND UNDERWEAR FOR THE HOMELESS.
Staying safe and healthy at TBS
We recommend masks at TBS during the flu and cold season (and COVID, of course.) Masks are available in the entranceway and the office. Let's stay healthy!
Kitchen Position Open
TBS is hoping to employ a kitchen helper to set up and clean up on Friday evenings before and after the oneg. Hours from 4:30-6:30. Contact Jessica for more information.
This Week's Calendar
Thurs., Jan. 12 ~ 11:00 Yoga/Kabbalah; 2:00 Israeli Dancing
Fri., Jan. 13  ~ 6:00 Shabbat Service
Sat., Jan. 14  ~ 10:00 Torah Study
Sun., Jan. 15 ~ 10:00 NO Sunday School
Mon., Jan. 16 ~ 10:00 MLK March (see below)
Tues., Jan. 17 ~ 2:00 Yarn Yentas
Wed., Jan. 18 ~ 12:00 Lunch Bunch; 2:00 Board Meeting
Check out our website to view our calendar and discover the wonderful events coming up!
                 View the TBS Calendar
TBS Board Meeting
The next Board Meeting is Wednesday, January 18 at 2pm at TBS. Board meetings are open to all members in good standing. If you'd like to address the board or speak at the board meeting, please contact President, Trudy Steinhauer at trudysteinhauer@gmail.com no later than Monday, January 16.    
Upcoming Special Adult Education Events
Thurs., Jan. 12 11:00am ~ Yoga and Kabbalah with Rabbi Susan, all levels welcome. Bring a mat.

 

Sun., Jan. 22 1:00pm ~ Rabbi Nina and Tom Brodersen ~ Jewish Views on Death, Dying, and Afterlife
Thurs., Jan. 26 12:45pm ~ Book Discussion with Rabbi Susan ~ The Sabbath by Abraham Joshua Heschel
Thurs., Mar. 23 12:45pm ~ Book Discussion with Rabbi Susan ~ Finding God by Rifat Sonsino

TBS Adult Ed Monthly Sundays at 1:00pm with Rabbi Nina Perlmutter and Tom Brodersen!
See the TBS Website's Adult Education Page for the complete schedule (and see how the website is now updated often and full of need-to-know information.) https://www.brithshalom-az.org/adult-education.html 
Jewish Views of Death, Dying, and Life After Death
Sunday, January 22 at 1pm Temple B'rith Shalom
Jewish Teachings and practices respond to the reality of death in a variety of meaningful ways. Come, learn, and be surprised. 
Presented by Rabbi Nina Perlmutter & Tom Brodersen, MSJS
Lunch Bunch Tanach Study with Carl Shulak at TBS
Every Wednesday from 12-1:30pm
Feel free to bring your own lunch but please no treif (pork, shrimp, etc). All are welcome to attend!
Mitzvah Circle ~ Chair Marsha Freedenberg
What is it? What purpose does it serve? How can I get involved?
The Mitzvah Circle is an opportunity for each of us to step up and help those in our congregation in their time of need. After a hospitalization, or rehab stay, a prolonged illness or temporary limit in mobility, your Mitzvah Circle can provide meals and or shop for you. ​If grieving, we can assist in creating a Minyan or help in setting up a Shiva table. 

Do not hesitate to call me. I can be reached at 928-771-9155. Or you can call the Temple office and they will contact me. 
~ Marsha Freedenberg
Social Action at TBS ~ Contact Gene Galazan to join our committee. ggalazan@msn.com
In 2021, Prescott Farmers Market partnered with the City of Prescott to create compost to be used in gardens throughout the Prescott area. Because of their physical labor and dedication, we have diverted 58 tons of food scraps from the landfill in 2022 alone and over 100 tons since Day One.
Drop off your compost material (no plastic bags) in a bucket in the sukkah at TBS by 11AM on Saturdays and it will be taken to the Prescott Farmer's Market.
Dayenu Circle Meeting/Social Action at TBS
Next meeting: Sun., Feb. 
Join the Dayenu circle as we welcome discussion to help find solutions to combat environmental concerns due to climate change. For more information, please contact Gene at ggalazan@msn.com .
Mazel Tov to Arlene Brownie on her retirement after 22 years at the TBS religious school! Join us on Friday, Feb. 10 at 6:00pm for a Shabbat service to honor Arlene.
The Women of TBS Luncheon
Monday, January 16 at 11:30am at the Hassayampa in Prescott.
Join us for a delicious lunch and wonderful conversation! RSVP to  leahgilbert19@gmail.com by no later than Thursday, January 12. Space is limited.
Monthly TBS Fressers' Dinner! Wednesday, January 25 at 5:30pm at The Olive Garden in a reserved spot in the restaurant. Separate checks requested. Please RSVP to Shari Brooks by Sunday, January 22:  shari@jbrookswa.com 
Interested in hosting the next monthly TBS Fresser Dinner or Lunch? 
You'd be responsible for making the arrangements with the manager of the restaurant of his/her choice, getting the info. to Jessica to publicize, and collecting RSVP's. For more information, contact Shari Brooks. 
Tues., Jan. 31 at 1:00pm. Diamond Art with Shira. Learn how to create beautiful beaded wall hangings. $3.00 for a 12 x 16 painting. Pay in the office to reserve a spot.
WOMEN OF TBS ~ THEATER PARTY MAY 28, 2023 
NEWSFLASH! MEN NOW INCLUDED!
GRAB YOUR FAVORITE SIGNIFICANT OTHER AND ASK HIM OUT.
12pm Optional Lunch at Hassayampa (pay your own).
2pm Matinee performance of 9 To 5 at Suze's Prescott Center for the Arts 

LAST CHANCE TO PURCHASE YOUR TICKET TO 9-5 FOR MAY 28TH.
Good News! We now have 10 RSVPs with the promise of a few more, but still have room for you. We must receive your RSVP and check in the office by Jan 17. That's when I'll be picking up the checks and bringing them to the box office.
If you're thinking of joining us, mail your check for $31.00 now, payable to SPCA. Hope to see you on the 28th for lunch and the theater!
R.S.V.P. to Joanne Brody at richjohoney@gmail.com, 928-710-8737​​​​​​​
You're Invited to Temple B'rith Shalom's Gala on March 25, 2023 at 5pm at The Club at Prescott Lakes 
Enjoy an elegant dinner with your choice of honey mustard chicken, atlantic grilled salmon, or a roasted vegetable ravioli. Come hear Rob Ratner and his esteemed Jazz band featuring Jessica Dreifuss on vocals. We'll also have a live auction including amazing excursions and fine jewelry to bid on. This will certainly be a night to remember! Get your tickets now at $115 per person. Invite your family and both your Jewish and Non-Jewish friends to a fun evening event. Good friends, Good Dinner and Good Music!! Great Fun!! All proceeds go to support Temple B'rith Shalom.
                     RSVP For The Gala 2023

Some very nice auction items are being acquired! Thank you!! For a list of auction items acquired so far, visit the Temple Website: Gala 2023 Auction Information 

We're still looking to acquire more auction items. Please think about a business or friend you have a relationship with that could donate items for the auction, such as:
Ask your barber/hair dresser to donate a gift card
Ask a restaurant you frequent to donate meals
Ask a friend with a vacation home to donate it's use
​​​​​​​Acquiring auction items is an integral part of the Gala's success. It is all our responsibility to help ensure we have a successful Gala. For more information, see our
website
. 
If you have any questions, please contact Gloria Hershman at 928-778-0161 or misgloria@gmail.com
The Men of Temple B'rith Shalom
Join the Men of TBS every Tuesday at 9am at the  Wildflower restuarant here in Prescott.
We are saying Kaddish for the following people at Shabbat this Friday, January 13. We are observing the Yahrzeits of loved ones who have passed from January 14-20. We also remember those who have left us in the last eleven months. These names have been taken from the member portion of our website. If you do not see your loved one's name and would like their name to be added to be said at services, please contact Jessica in the office. 

Belle Guberman, mother of Karen Bycer
Antoinette Kaufman, grandmother of Trudy Steinhauer
Traute Gorny, mother of Esther Littmann
Harriet Perlmutter, cousin of Steve and Sue Weiss
Edward Miller, uncle of Arlene Brownie
Stanley Blacker, close friend of Trudy Steinhauer
Leo Strom, brother of Karin Luedke
Nicole Perrot, Sister-in-law of Mireille Perrot
Marilyn Korpiel, wife of Joseph, mother of Stephanie Korpiel and Rachel Ellington. 
Jack Tarash, brother-in-law of Jay Bycer
Reva Kaufman, sister-in-law of Trudy Steinhauer
David Kaplan, husband of Heather, father of Miguel, Gabriella, and Lily Kaplan
Nina Noble, sister of Phil and Suzi Abramson-Johnson
Paula Schanerman, mother of Brian Schanerman
Arthur Ackerman, brother of Richie Ackerman
Michael Kaufman, brother of Trudy Steinhauer
Peter Lawrence Goldman, father of Wendy Porter, grandfather of Henrietta Porter 
Mark Basch, son of Esther Basch, brother of Rachel Turet
Bonnie Sperling, wife of Michael Sperling
Linda Hochman, partner of Bill Cadwallender 
Daniel Glenn Luedke, son of Karin and Rod Luedke
Purchasing a Yahrzeit plaque is a beautiful way to honor and remember our loved one's who have passed. To purchase a plaque, please fill out this form and return it to the temple office. We kindly ask for $360 per Yahrzeit plaque. 
Yahrzeit Plaque Order Form
Healing Thoughts for:
 Elijah Escobedo, Estherly Allen, Richard Brody, Karen Bycer, Scott Muirhead, Rabbi Nina Perlmutter, Josiah Ramirez Jr., Sandra Lynch, Roslyn Brownie, and Stephanie Byrd.

If you would like to add or take off your name or your family member's name from the healing list, please call or email the office at 928-708-0018 or office@brithshalom-az.org.
Give Back to TBS!
We are so grateful for your kindness and generous giving to Temple B'rith Shalom. Your contributions help Temple B'rith shalom to thrive and ensure a home for Jews in the Quad City area.
If you would like to make a donation now, click here.   
Did you know you could can give back to TBS at no additional cost to you simply by shopping at Frys or Amazon Smile? For more information, click here. 
Are you interested in advertising on our website? Please contact Jessica in the office for more details.  
Temple B'rith Shalom
2077 Brohner Way
Prescott, AZ 86301
Tue, May 30 2023
10 Sivan 5783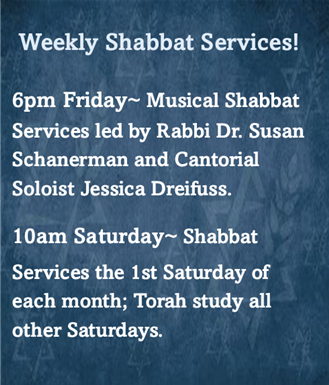 Temple B'rith Shalom wants to hear from you
Like us on Facebook!
https://www.facebook.com/brithshalomaz
Follow us on Instagram! https://www.instagram.com/schanermansusan/
Tue, May 30 2023 10 Sivan 5783