Weekly Happenings at TBS
Announcements November 9, 2022
11/09/2022 05:00:51 PM
| | |
| --- | --- |
| Author | |
| Date Added | |
| Automatically create summary | |
| Summary | |

​​​​​​​
15 Cheshvan 5783/ November 9, 2022
Rabbi's Reflections~ Don't Let the Lights Go Out
On November 9, TBS is leaving the lights on. Hundreds of synagogues and churches around the world will keep their lights on to commemorate Kristallnacht, Nazi Germany's "Night of Broken Glass," in which dozens of Jews were murdered and hundreds of synagogues were set ablaze in 1938. "Light from the Synagogue" is join with the international Jewish community. I am so proud that we, at TBS, take that responsibility seriously as we continue to strengthen Prescott's Jewish presence.
~ Rabbi Susan
   rabbi@brithshalom-az.org
 
P.S. I am always open to your thoughts and value the opportunity to discuss anything on your mind. Responses to Rabbi's Reflections can be directed to rabbi@brithshalom-az.org.
This Week's Calendar
Thurs., Nov. 10 ~ 2:00pm Israeli Dancing; 3:15pm Choir Rehearsal
Fri., Nov. 11 ~ 6:00pm Shabbat Services
Sat., Nov. 12~ 10:00am Shabbat Services
Sun., Nov. 13 ~ 10:00am Sunday School
Mon., Nov. 14 ~ 4:00pm Congregational Meeting and Optional Soup/Salad Supper ($10.00)  CLICK HERE TO RSVP
Wed., Nov. 16 ~ 11:00am Women's Book Group; 12:00pm Lunch 'n Learn; 2:00pm Board Meeting
Be sure to go to our website to view our calendar and check out all the wonderful events coming up!

View the TBS Calendar
TBS Board Meeting
The next Board Meeting will take place on Wednesday, November 16 at 2pm at Temple B'rith Shalom. Board meetings are open to all members in good standing. If you would like to address the board or speak at the board meeting, please contact President, Trudy Steinhauer at trudysteinhauer@gmail.com no later than Monday, November 14 prior to the board meeting. 
                                             
Strategic Plan Presentation
Light Supper fundraiser sponsored by the Women of TBS 
HUGE TBS cleanout sale! Wonderful items for purchase
Monday, November 14 at 4pm
                           Please RSVP Here for Soup and Salad

Join us for a TBS Strategic Plan Presentation on Monday, November 14 at 4pm.The Board of Directors and Rabbi Susan completed a thorough strategic plan for TBS, and we look forward to presenting it to the congregation. 
Following the presentation, stay for a light supper of soup and salad sponsored by the Women of TBS. $10 per person. Call Allee Steinberg to help at 928-273-9550.
We've also cleaned out the sheds and closets at TBS! There will be many available Judaic items for purchase at wonderful prices.
Classes starting as requested. Facilitated by Rabbi Susan.
Register for Mussar, Hebrew, and Discovering Judaism: rabbi@brithshalom-az.org
The Dignity of Difference Nov. 13 Class with Rabbi Nina Perlmutter is cancelled.
 Monthly Yoga and Kabbalah ~ 1st Thursday of each month 10:00-11:00 starting Nov. 10 and continuing on Dec. 1. Mat, comfy clothes.


Mussar ~  Wednesdays 1:30-2:30 (Everyday Holiness by Alan Morinis required) 19 sessions. Nov. 30-April 19.



Discovering Judaism

~ Wednesdays 2:30-3:45 twice/month. Contact Rabbi Susan for a list of texts and the syllabus. Approx. 12 classes. Next class:

Nov. 30 at 2:30pm

.


Contemporary Jewish Fiction Book Club ~ 2nd Wednesday every other month at 11:00am Books selected by the group. Nov. 16 this month.


Prayerbook Hebrew for Adults ~ Every other Wednesday at 11:00am starting Nov. 30. Purchase this book: Prayerbook Hebrew for Adults by Nina Cardin. New and used copies available on Amazon. For those who can read the Hebrew letters.
TBS Adult Ed Monthly Sundays at 1:00pm with Rabbi Nina Perlmutter and Tom Brodersen!
See the TBS Website's Adult Education Page for the complete schedule (and see how the website is now updated often and full of need-to-know information.) https://www.brithshalom-az.org/adult-education.html 
Lunch Bunch Torah Study with Carl Shulak at TBS
Every Wednesday from 12-1:30pm
Feel free to bring your own lunch but please no treif (pork, shrimp, etc). All are welcome to attend!
Operation NoAZ: The Jewish Communities of Sedona and Flagstaff have invited us to join them in collecting winter coats to help the Asylum Coalition provide coats to asylum-seekers who are sent to relatives in the upper Midwest and New England with only sweaters and sweatshirts.  Through November, we are collecting gently used or new winter coats for people of all ages. Bring them to TBS. Providing warmth is a mitzvah we can all perform.
TBS Compassionate Cooks
TBS sponsors a meal on the last Sunday of the month for the women and children's shelter in Prescott. TBS Compassionate Cooks includes member and non-member volunteers. Annie Bernkrant currently coordinates the effort, sending an email with a menu about two weeks before the meal.  Volunteers "reply all" to the group email with their contribution, so everyone knows which dishes are still needed.  Volunteers cook or purchase their donation.  Volunteers deliver their dishes to the shelter at 5:15pm on the appointed day. 
You don't have to participate every month.  If you would like to join in this worthwhile effort or have questions, email Annie at anniebernkrant@hotmail.com or call her at (928) 273-5202 before Nov. 14th so she can add you to the group email list.  Our next commitment is for Sunday, Nov. 27, the weekend after Thanksgiving.
Social Action at TBS ~ Contact Gene Galazan to join our committee. ggalazan@msn.com
Composting vegetable and fruit scraps, flowers, egg shells and coffee grounds instead of landfilling reduces methane gas production and recycles nutrients back to the soil. Methane gas is a significant cause of global greenhouse gas emissions because it captures and retains heat longer than carbon dioxide. Landfills are the third largest source of methane gas emissions in the United States. In addition, compost improves Arizona's soil, which has been degraded by a 20-year drought. 
Drop off your compost material in a bucket in the sukkah TBS by 11AM on Saturdays and it will be taken to the Prescott Farmer's Market.

Thank you to all who contributed to Team TBS's Alzheimer's Walk this year. We raised $3,058 for this important cause, not including the additional amount that will also be contributed by a very generous anonymous donor! 
Dayenu Circle Meeting/Social Action at TBS
The next meeting will be Sunday, November 20 at 3pm on Zoom.

The Dayenu circle has been created to open and welcome discussion and help find solutions to combat environmental concerns due to climate change. For more information and how you can help, please contact Gene.
The Men of Temple B'rith Shalom
Every Tuesday at 9am at the Wildflower
Join the Men of TBS every Tuesday at 9am at the  Wildflower restuarant here in Prescott. It's a wonderful opportunity to get to know the Men of TBS better over a cup of coffee and great conversation. 
The Women's Book Group
Wednesday, Nov. 16 at 11:00am
The Ladies Auxiliary by Tova Mirvis is a wonderful read about a community of Orthodox Jewish women who struggle with tradition and contradiction. Three copies available at The Prescott Library, or order it on Amazon in book (used from $5.00) or Kindle versions.
Photos from The Women of TBS Wine and Cheese event last week! 
Photo Credit: Joanne Brody
Important Notice: 
We are now observing the Yahrzeits which occur within the week after. This week, we are observing the Yahrzeits which occur between November 12-18. 
We will be saying Kaddish for the following people at Shabbat this Friday, November 11. These names have been taken from the member portion of our website. If you do not see your loved one's name and would like their name to be added to be said at services, please contact Jessica in the office. 

Theresa Greenberg, mother of Ed Greenberg
Renee Gruen, mother of Wendy Ratner
Kevin Raskin, grandson of Arlene Raskin
Hyman Perlmutter, Zedie of Rabbi Nina Perlmutter
Marilyn Korpiel, wife of Joseph, mother of Stephanie Korpiel and Rachel Ellington. 
Jack Tarash, brother-in-law of Jay Bycer
​​​​​​​Ed Greenhill, friend of TBS
Reva Kaufman, sister-in-law of Trudy Steinhauer
David Kaplan, husband of Heather Kaplan, father of Miguel, Gabriella, and Lily Kaplan
Paula Schanerman, mother of Brian Schanerman
Arthur Ackerman, brother of Richie Ackerman
Michael Kaufman, brother of Trudy Steinhauer
Peter Lawrence Goldman, father of Wendy Porter, grandfather of Henrietta Porter 
Mildred Malyjurek, mother of Sue Aycock
Mark Basch, son of Esther Basch, brother of Rachel Turet
Bonnie Sperling, wife of Michael Sperling
Linda Hochman, partner of Bill Cadwallender 
Daniel Glenn Luedke, son of Karin and Rod Luedke
Gene Gertler, husband of Poco Gertler
Joanna King, wife of Joseph King
Ruthann Perlmutter, mother of Rabbi Nina Perlmutter
Myra Nathenson, wife of Stephen Nathenson 
Judy O'Brien, daughter of Sally Contour 
Purchasing a Yahrzeit plaque is a beautiful way to honor and remember our loved one's who have passed. If you would like to purchase a plaque, please fill out this form and return it to the temple office. We kindly ask for $200 per Yahrzeit plaque. 

Important! Effective January 1, the cost to purchase a Yahrzeit plaque will increase to $360 per plaque. Be sure to order your loved one's plaques now while they're still $200 each. 

Yahrzeit Plaque Order Form
Healing Thoughts for:
 Leo Strom, Elijah Escobedo, John Dealy, Estherly Allen, Mike Wolf, Hal Bierman, Esther Basch, Michael Friend, Brett Friend, Karen Friend, Arlene Brownie, Josiah Ramirez Jr., Jay Bycer, Karen Bycer, Joseph King, Sally Contour, Richard Brody, Scott Muirhead, Rabbi Nina Perlmutter, Sandra Lynch, and Roslyn Brownie. 

If you would like to add or take off your name or your family member's name from the healing list, please call or email the office at 928-708-0018 or office@brithshalom-az.org.
LOOKING FOR MOVIE MAVENS
Like foreign films?
Enjoy movie watching?
Consider yourself a good judge of film quality?
Would you like to participate in film selection for
the Phoenix Jewish Film Festival?

Please contact Bill Kram, billkram01@gmail.com

Give Back to TBS!
We are so grateful for your kindness and generous giving to Temple B'rith Shalom. Your contributions help Temple B'rith shalom to thrive and ensure a home for Jews in the Quad City area.
If you would like to make a donation now, click here.   
Did you know you could can give back to TBS at no additional cost to you simply by shopping at Frys or Amazon Smile? For more information, click here. 
Are you interested in advertising on our website? Please contact Jessica in the office for more details.  
Temple B'rith Shalom
2077 Brohner Way
Prescott, AZ 86301
Tue, May 30 2023
10 Sivan 5783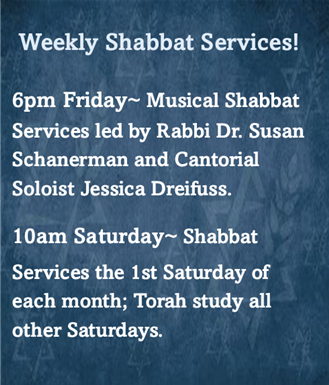 Temple B'rith Shalom wants to hear from you
Like us on Facebook!
https://www.facebook.com/brithshalomaz
Follow us on Instagram! https://www.instagram.com/schanermansusan/
Tue, May 30 2023 10 Sivan 5783