Hesed Caring Circle
The Hesed Caring Circle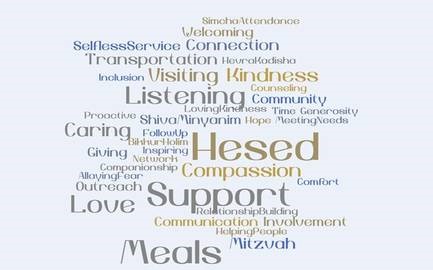 Jewish tradition would say that the true definition of the Hebrew word Hesed is a beautiful combination of Love, kindness and mercy all wrapped up together and shared through human contact as sacred gifts from one to another. Hesed is more than a noun, it lives and breathes as a verb. And this very idea of a living and breathing love that reaches out to the entire congregation is exactly what our next chapter of Temple B'rith Shalom's new care committee is inspired by.

If you need or know of someone who needs, a meal, a visit, a ride, a friend, please let us know. Our own Shara Beck has stepped up to run Temple B'rith Shalom's new Hesed Caring Circle. And we could not be more blessed.

Mindy Rubin ran this committee beautifully for seven years and she helped to reach so many congregants with love. Mindy has stepped down and we are full of gratitude for her generous effort and big heart. Thank you, Mindy for your years of service. We greatly appreciate all that you have done for our Temple.

So a new chapter begins and with Shara at the helm we are sure to be blessed by her constant smile and warm heart. Please let us know if you are in need, Covid has taught us, I pray, to reach out, let us know how we can help. We are here to make sure you feel cared for, but we need your help in notifying us when that need arises.

Shara is also looking for a team to assist her in putting this important committee together, it is so much more than a committee, it's one of the heart beat centers of our community. Please contact Shara if you would like to be a part of this beautiful venture.
Tue, October 19 2021
13 Cheshvan 5782
Temple B'rith Shalom wants to hear from you
Please do not hesitate to email or call us at (928) 708-0018 at any time. For immediate assistance, please contact President Trudy Steinhauer at (206) 799-7899.
Tue, October 19 2021 13 Cheshvan 5782