Hesed Caring Circle
The Hesed Caring Circle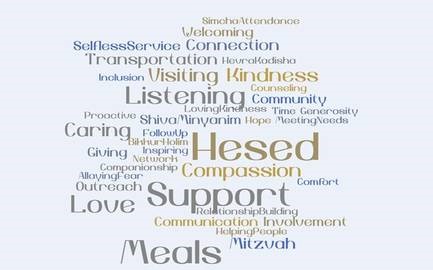 Jewish tradition would say that the true definition of the Hebrew word Hesed is a beautiful combination of Love, kindness and mercy all wrapped up together and shared through human contact as sacred gifts from one to another. Hesed is more than a noun, it lives and breathes as a verb. And this very idea of a living and breathing love that reaches out to the entire congregation is exactly what our next chapter of Temple B'rith Shalom's new care committee is inspired by.

If you need or know of someone who needs, a meal, a visit, a ride, a friend, please let us know. We are here to make sure you feel cared for, but we need your help in notifying us when that need arises.
We also mail cards to congregants who are ill or needing condolences. Contact Rabbi Susan at rabbi@brithshalom-az.org to receive timely emails.

If you are interested in volunteering or helping with the Hesed circle, please contact us at office@brithshalom-az.org.
Fri, September 30 2022
5 Tishrei 5783
Temple B'rith Shalom wants to hear from you
TBS Mission and Vision
Mission: To celebrate, observe, explore, and wrestle with Jewish practice, beliefs, and culture as individuals and a collective community.
Vision: To empower and inspire our community to be a compassionate, evolving and substantive Jewish family both internally and within the greater Prescott community.
Donate to Temple B'rith Shalom
We are grateful for your ongoing support and contributions. To make a donation now, click here.
Purchase a Leaf on our Temple Tree of Life. Mark a special occasion in a beautiful way.
Form HERE.
Fri, September 30 2022 5 Tishrei 5783